Lotus Poultry Cage Square Pipes
LOTUS Square Pipes are
Designed with Ribs on 3 Sides for extra strength to the pipe compared to only 1 Rib for Conventional Square Pipes.
Hold 6% more water than conventional Square pipes of same size. This additional 6% water will help to keep water temperature in pipe more Optimal.
Our Grey PVC pipe blocks more light to Minimize algae growth inside the pipe.
More flat at bottom; this helps saddles to stick more firmly compared to conventional square pipes.
Made in Smooth finish internally and externally, allows No dust particles to stick inside.
Non contaminating, Tougher and rigid. Made from high quality raw materials which give years of reliable service at all climatic conditions.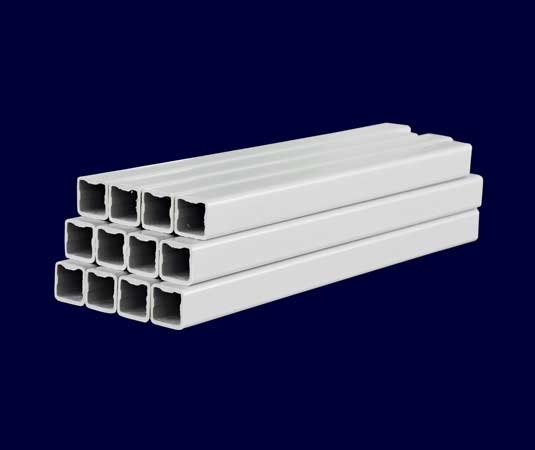 Our Pipes are regularly inspected manually for Flaws such as Pipe Leakage, Saddle Fixing, and Coupler Tightness.
Dimensions of Lotus Square Pipe : 22 mm X 22 mm
Available Sizes of Saddle Fixed Square Pipe : 9" , 10" , 15" , 17" , 18" , 20" , 24"
Available Lengths of Lotus Plain Square Pipe: 180", 187", 192".
Any other sizes are exclusively customized as per Customer requirement.
LOTUS manufactures its Square Pipes on Sophisticated machinery with higher efficiency. This delivers more output and less wastage which reduces Production cost. This Saved cost is passed on to our customers.
Accessories such as Saddles, Couplers, and Square to ½" or ¾" Round Convertor Couplers are always readily available.